Civic Engagement involves "working to make a difference in the civic life of one's community and developing the combination of knowledge, skills, values and motivation to make that difference. It means promoting the quality of life in a community, through both political and non-political processes." Civic Studies is an emerging interdisciplinary field that studies civic life and helps citizens improve it. It includes scholarship that combines ethics, knowledge, and strategies to guide citizens in shaping their communities.
Stay tuned in as Tulane Students, Faculty, Staff and Community continue to build coalitions for equity for all through civic participation.
Upcoming Events
Image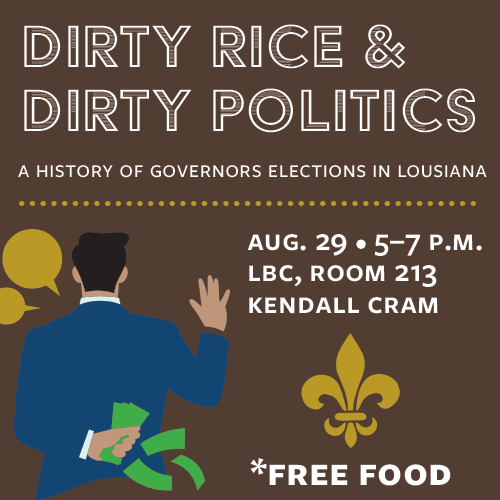 Dirty Rice & Dirty Politics
A History of Governors Elections in Louisiana
Tues., Aug. 29, 2023 | 5–7 p.m.
LBC Kendall Cram Lecture Hall, Rm 213
Free Food | Voter Registration | Student Orgs | Networking
Featuring Guest Speaker Terrence Fitzmorris on
"A History of Governors Elections in Louisiana" 
Voting information:
Tulane TurboVote
Louisiana Secretary of State
Student Organizations involved in Civic Engagement:
BridgeUSA
College Democrats
Israel Public Affairs Committee
J Street U
Sunrise Movement Tulane
Tulane College Republicans
Turning Point USA
Wave Center for Policy and Enterprise